So i just watched Ready Player one and it was a pretty fun movie, Its about this huge virtual reality MMO game like SL mixed with SAO and this generic main protagonist looking dude and his wacky friends trying to solve puzzles and get 3 keys to unlock some shit and win the ownership of the game world itself. While the evil EA corporation is throwing money into focus groups trying to solve the puzzle themselves to gain control of the game and shit it up with their loot boxes and micro transactions.
I dont get why nerds hate this movie so much because this movie is like every nerd's wet dream, like i understand there were some really cringy geek out moments that felt really forced like that part where they were talking about golden eye on nintendo64. But its still a very enjoyable and surprisingly solid movie.
What kinda disappointed was that there were a bunch of big missed opportunity moments, like they could have made the main chick turn out to be a dude IRL, you know just like girl avatars are in real videogames. I think they kinda sort of wanted to do that but it would have offended all the good god loving christian folks in american and their dumb sensibilities, because in american folklore, the hero has to get the girl and all that cheesy shit and if there is no girl to get or the hero gets the guy, you will have a bunch of pissed off old people going all HURR MUH FAMILY VALUES HAVE BEEN SHATTERED BY THIS MOVIE!!!, so instead *spoilers* they made that big cyborg dude turn out to be an ugly fat chick IRL because that wont offend anyone.*spoilers*
As for the main girl, when she said "you wont like me irl, im ugly" i expected her to be, i dunno, at least chubby or something, but no she looks just as hot irl as her avatar, its really lame how safe they are trying to play even in places where they dont need to, no one would have minded her actually turning out not looking like a supermodel IRL.
Now for avatars themselves, it didnt lack variety in that department, there were all kinds of avatars, robots, elfs, orcs, pizza wizards and even fucking furriers, but not a single anime girl anywhere, have they not heard about VR chat? You can literally be anything you want in that game, but anime is off the table, so fuck you. Which is even more strange considering they had a gundam and the bike from akira and all that anime stuff in it.
Another missed opportunity is by nintendo itself for not licensing their characters to the movie, there was no iconic nintendo characters like mario with his blue and red overalls, red hat and mustache or metroid in his yellow armor with big round shoulders and green arm cannon or zelda with his pointy ears and green hat and sword or a single pokemen reference. Nintendo, if you want to still be relevant in the future, you should jump on opportunities like this nerd wankfest of a movie, you are a huge part of nerd culture and you have probably shaped the history of gaming more than anything else they showed in it, yet other than that cringy goldeneye reference, its like you never even existed, they could at least made the main hero wear the powerglove or something, but well i guess its true what they say, genesis does what nintendont. It was also strange to not see any storm troopers or darth vaders, although they did throw in a shit ton of verbal references to star trek like the millennium falcon and captain spock's famous phrase "may the force be with you"  so i guess thats ok.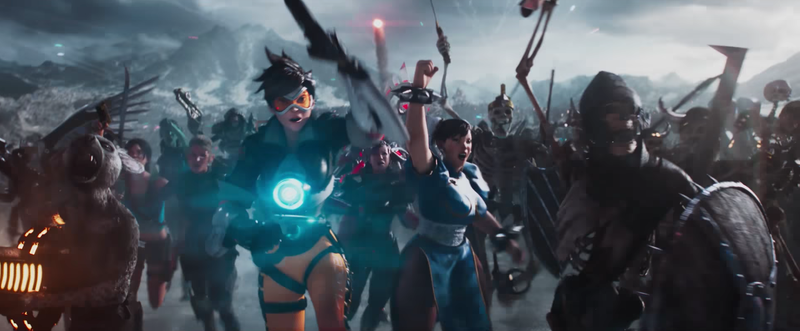 Its kind of ironic how all thsoe copyrighted characters in the movie mirror all the copyright infringment and game model rips on second life.
Oh yeah there were also some inconsistency with the time line by like 20 years, when JD Halliday played atari as a kid, we already had playstations by then.
Anyway, this movie is like second life and sword art online had a baby, It was a very fun and filled with fun pop corn munching action and, pop cullture references and tracer's ass. I recomend seeing it, just dont watch it in 3D cuz it just makes it as hard to watch and recognize all the characters as a crappy low quality cam rip on the web
– Mesh bakes, reduced sim costs and my idea for SL –
Now speaking of swords art online and second life having a baby, you probably already heard the news but Linden labs are rolling out a bunch of new changes to SL. One of them is a new mesh feature that will allow loading LL avatar textures onto mesh objects, this is a big thing because now you will no longer need deal with tons of confusing applier systems just to load your skins or clothing layers onto your normie mesh bodies, you will be able to wear your LL skins, tattoos, alphas, on your mesh bodies straight from your inventory. How exactly it will work i do not yet know but if you are wondering if im going to implement that into any of my stuff, the answer is very yes!.
Another somewhat great news is that they are lowering the sim costs on mainalnd and moving the grid into a cloud based network, witch i think is a step in to the right direction that they should have taken ages ago. I say somehwat because lets face it, the 10% cost reduction is meaningless when sims still cost hundreads of dollars a month, no ones going to flock to mainland because its still way out of reach financially for most normal people, especially when you compare it to the monthly cost of running a game server witch is 40$. But i do hope that moving to the cloud will help them cut the costs enough for them to be able to lower the sim prices even more.
But if was LL, heres what i would have done in the first place:
Instead of throwing all my money and resources into dead end projects like desura, patterns and sansar, i would instead direct those resources into making SL a streamlined MMO game platform. Redo systems like character movement, vehicle system, combat, IK, pathfinding and AI, make it all work like in a real videogame.
Next step would be redoing the sim software to allow sim scalability so that you wouldnt be confined to 250×250 cube ion the middle of the sea, and price land based on scale.
Lets say a small island sized as 1/4 of our current sim sizes would cost you 15$ or whatever subscription fee premium users pay in MMO games.
Bigger plot of land for commercial purposes like shopping malls or small indie game projects would go from 40$ to 100$
And than we would have huge plots of land for big game companies to create their own MMO titles with a huge open worlds the size of games like skyrim or farcry, building their MMO experiences on top of the infrastructure provided by LL, it would go from 300$ to 1000$ or even more if the game is as massive as WOW.
So yeah that's all.